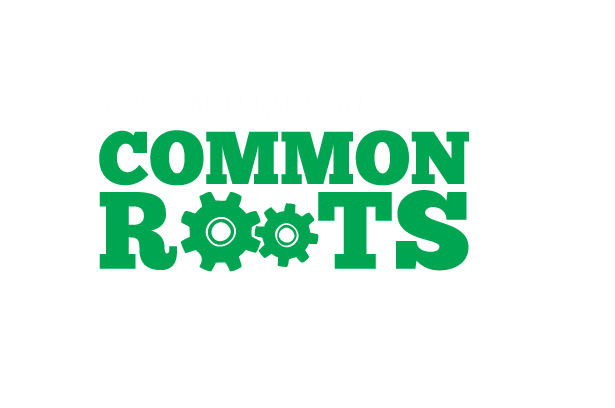 August 21, 22, 23 & 24
Three cheers for three years! Common Roots Festival is back! We are excited to continue our mission of supporting local music, art, and downtown Saint Cloud businesses in 2019. Want to help us grow even deeper roots? Purchase your 2019 Limited edition button &/or t-shirt. The button will get you entrance into every show at the festival and SWEET SPECIALS from August 1 through Labor Day!
Get Your Swag
200+ Artists. 11 Venues. 13 Stages.
AUGUST 21, 22, 23 & 24
Thursday, August 22
4-5:45: The Northern Medicine Trio
Friday, August 23
9-9:45: Nathan Ness
10:15-11: Jesse Eugene
Saturday, August 24
9-10:45: Sticks & Picks
Thursday, August 22
Variety Show
Doors open at 8
Show start at 9
Emcee/Host: Carmen Love
**Show kicks off with comedy from 9-10:15. After that, burlesque and drag performances take the stage!
Comics:
Ryan Middendorf
Just Missy
Josh Otremba
Max Wirz
Chris Duke
Johnny K
Ian Welch
Comrade Tripp
Matt Dooyema
Moe Yaqub
Ben Marcotte
Robert Praetorious
Alex Pitra
Burlesque Performers:
Nakita Kat
Honey Dip
Nakita's Kittens
Fleur D'Indigo
Nixxi Gin
Nay Nay Bouchee
Adam Shame
Roman Hart
Sundae Moanin
Saxy Seal
Petty Treason
Amethyst Haze
Jewels Darling
Justin Uranus
Robyn Swing
Lilith Luxure
Drag Performers:
Klorox
Talon
Carmen Love
Dexter Maine Love
Tawnya Tootsieroll
Rose Nylon
Friday, August 23
9-9:45: Bourbon House
10:15-11: Poor Lemuel
11:30-12:15: Bubblemath
12:45-1:30: Crystal Shanda Lear
Saturday, August 24
9-9:45: The Morning Kings
10:15-11: The Moonlight Community
11:30-12:15: Oh So Easy
12:45-1:30: The Arcanes
*Lineup subject to change
Bazaar
Saturday, August 24
11 am – 4 pm
Lady Slipper Parking Lot
Wirth Center for the Performing Arts
music school information
Live. Dream. Create.
dream catchers, hula hoops, paintings, baby apparel, feather hair extension
Gypsee Bee
skirts, bee inspired plaques, lip balm, beeswax, candles, honey, beeswax products, upcycled art, bags, oil roll-ons, journals, fabric art
KVSC
information on KVSC Radio Station
Jupiter Moon, LLC
ice cream cups
Paramount Center for the Arts
information on upcoming events and programs at Paramount Center for the Arts
Naena Jewelry
handcut leather earrings, wrap bracelets, hair clips, stamped rings and keychains, necklaces
Industrial Workers of the World:
Central Minnesota Branch
information on the Musicians Union of Central Minnesota
Albino Bee Love
bags, purses, jewelry, hair clips, scrunchies, linens, stationery, doll clothes, essential oil blends, bath salts, scrubs, salves
Oil the Way Boutique
diffuser bracelets, earrings, necklaces
Notes-N-Bling
handcrafted leather and essential oil jewelry, original music CD's, original book sales
Dtsb.designs
earrings, necklaces, mug rugs, macrame items, key chains, wall hangings, knick knacks, book marks
Warren's BBQ
BBQ beef brisket sandwiches, cheese curds, fries, drinksmarks
Daydream Coffee
nitro cold brew coffee and lattes
Esis: Creativity In Action
handmade beaded and hemp jewelry, hand drawn original artwork, hand-framed digital designs made with photos
Creative Learning Stations
handmade pendants, rings, bracelets, earrings, clay charms
Jewelry by Linda Lee
guitar string earrings, essential oil blends
Bubbalu Creations
8x10 graphic prints, door hangers, tote bags
Northington Gallery LLC
portaits on old records, painted records made into clocks, welded silverware sculptures, recycled item chimes, acrylics paintings, resin art and mosaics
Matt's Mushrooms and More
wild and cultivated mushrooms, mushroom cultivation supplies, syrup and other maple products
HCY Handmade
hand knit/crocheted hats, blankets, scarves, soap cozies, hair scrunchies, wash cloths, beach bags, face scrubbies, pot holders, beeswax candles
**Ask for the Common Roots beer at supporting venues!**
We're now accepting applications for 2019 bazaar vendors and festival volunteers.
Download a printable application to be a vendor at our bazaar
Contact our volunteer coordinator & learn about our volunteer opportunities
Question or comment?
We want to hear from you.